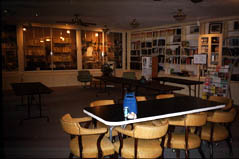 The Robert M. Conrad Research and Educational Center was built in 1997 by Mrs. Hawtense Conrad in honor of her late husband Robert. This facility not only expands the opportunity for research and educational programs, but provides the space for a growing library, a showcase for changing exhibits of historical interests, to display the Society's artifacts and collectibles, a classroom/lecture hall/meeting room, and a space to preserve the thousands of photographs and newspaper clippings dating back to 1877. In addition, the Society maintains a growing collection of approximately 100 oral history videos that can be viewed at the Center.
~Click on any of the topics below to find out more about the Center~
Exhibits ~ the display cases showcase historical artifacts and we also have traveling exhibits which change every few months.
Oral History ~ a collection of senior citizens interviews and remembrances.
Library ~ books, periodicals, scrapbooks, yearbooks, centered on Florida and a great resource for genealogy.
---
Our center display case features private collections on loan to the Society. These exhibits change every 3 months. This month's exhibit is Harvest in Florida showcasing vintage photos of pineapple fields, sugarcane, etc.

Florida Humanities Council Traveling Exhibit highlights different aspects of Florida's history. The exhibit schedule is as follows:

The St. Johns River Valley May - July 24, 2000

Hemingway in Florida and Cuba August - October 23, 2000

Thomas Jefferson's Legacy November - January 22, 2001

Florida Goes to War February - April 23, 2001

The Last Harvest May - July 23, 2001

One of our cases displays memorabilia and photos of John B. Stetson and his life in Florida. John B. Stetson had a 300 acre estate in DeLand and was a close friend of Henry A. DeLand. Mr. Stetson, not only donated money to Stetson University, but also brought many improvements to the city of DeLand, including the prestigious College Arms Hotel and Golf Course and electricity. Some highlights in our exhibit include his "mad money" wallet, silver chalice given to him by the citizens of DeLand, Stetson hats, and a menu from the New Years Eve dinner at the College Arms Hotel and Golf Course.

Our final display cases house historical artifacts relating primarily to DeLand and also to Florida. These artifacts include DeLand Company Baking Soda, 1917 City of DeLand phone book, and arrowheads found in the local area. There are many more interesting pieces of history to view.
---
Our oral history library encapsulates people with a wide variety of backgrounds and personal experiences. Our senior citizens are interviewed and videotaped describing their live experiences primarily in DeLand but also encompasses their life experiences. Visitors to the Conrad Center are given the opportunity to view the videos during the hours the center is open. This is a wonderful way to experience life here in DeLand years ago from different people's perspectives. If you are a relative you may purchase a copy of their personal interview video by contacting the office of the Society at (386) 740-6813.
---
Our ever-growing book collection focuses primarily on DeLand and the state of Florida with subjects ranging from history to flowers to steamboats to poems to citrus, etc. The library also includes yearbooks from DeLand High School, Stetson University and even the DeLand Middle School. Our old telephone book and city directory collection aides people in their genealogy research. We also have business ledgers from historical bicycle shop, Red Hats baseball team, John B. Stetson's citrus groves and much more. Our scrapbooks include West Volusia County community histories and pioneer family histories. Vintage maps, photographs, and newspapers are also found in the library. Our entire library is currently on a database that is accessible to our visitors to aide them in their research.
---