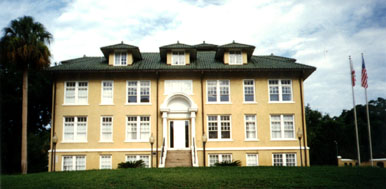 Memorial Hospital Museums
230 North Stone Street
Bill Dreggors Park
DeLand, FL 32720
(386) 734-5333
Wednesday - Saturday 10am -3pm

In 1920 the cornerstone of the DeLand Memorial Hospital was in place. The building was dedicated to the servicemen of WWI. DeLand Memorial Hospital served the medical need of the community until 1948. Following the closure for medical care, the building briefly served as a house for a Stetson University fraternity. After serving many different uses for the city the building was fully restored in 1993. The building includes the offices of the City of DeLand Parks & Recreation department, Bert Fish room, and several museums. To find out more about each of our museums click on a link below!
Veterans Museum ~ contains historical memorabilia from the Civil War era through Desert Storm.
Electric & Ice Museum ~ only one in the state of Florida and displays vintage electric and ice memorabilia.
Black Heritage Museum ~ shows the lifestyles of the black community in DeLand during the turn of the century.
Elephant Room ~ a collection of approximately 100 elephant figurines from around the world.
Bert Fish ~ a room filled with interesting pieces of one of DeLand's renowned citizen's life.
Operating Room & Apothecary ~ contains vintage medical equipment set up like an operating room.
Antique Toy Collection ~ a display of antique metal toys.
---
This museum contains artifacts and photos from the Civil War through Desert Storm donated by the people in the community. There is also another room with a large display of fine model airplanes from World War I to the present, photos of the DeLand Naval Air Station during World War II and a photo collage of the men who graduated from DeLand High School and were killed in World War II.
---
This is one of only a few museums of its type in the country which displays insulators and "go-with" electric artifacts, tools, advertisements, and photos of the ice and electric industry. DeLand had the first electric generator plant in Florida. Also in 1887, DeLand was the first city to have city street lights in Florida.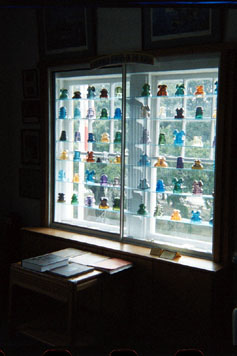 ---
This museum houses artifacts and photographs depicting life in the turn of the century. One of the featured items in the room is Dr. Poole's dentist chair. Dr. Poole was DeLand's first African American dentist.
---
Over 40 years of avid collecting, by Mrs. Hawtense Conrad, has resulted in over a thousand elephants of every size, shape, color and material. Whether single elephants, herds of elephants, or families of elephants, they are all here. The elephants are made from a variety of materials, including hand-blown crystal, cobalt, clay, wicker, and various woods.
---
When a visitor steps into this room they are transported to an operating room from the 1920's. Mannequins representing a surgeon, a nurse, and a patient are shown in the completion of a surgical procedure. Dr. Seigworth, assisted by his wife, Ora, also designed and stocked a pharmacy display which recreates the atmosphere of the hospital dispensing department.
---
This room houses the actual toys that Robert Conrad, and his sister Dorothy Conrad Simpson played with in their childhood in the 1920's and 30's. The toys were carefully preserved by the Conrads and some are very rare. It is a great treat for children to see what toys their grandparents would have played with.
---
Mr. Bert Fish was raised in DeLand and became a school teacher, county judge, and an Ambassador to Egypt before and during World War II. In his will, a trust was set up for three hospitals to be built in this area, and were named Fish Memorials - New Smyrna, Sanford, and Orange City. The room has artifacts, pictures and Mr. Fish's beautiful Egyptian office furniture.
---